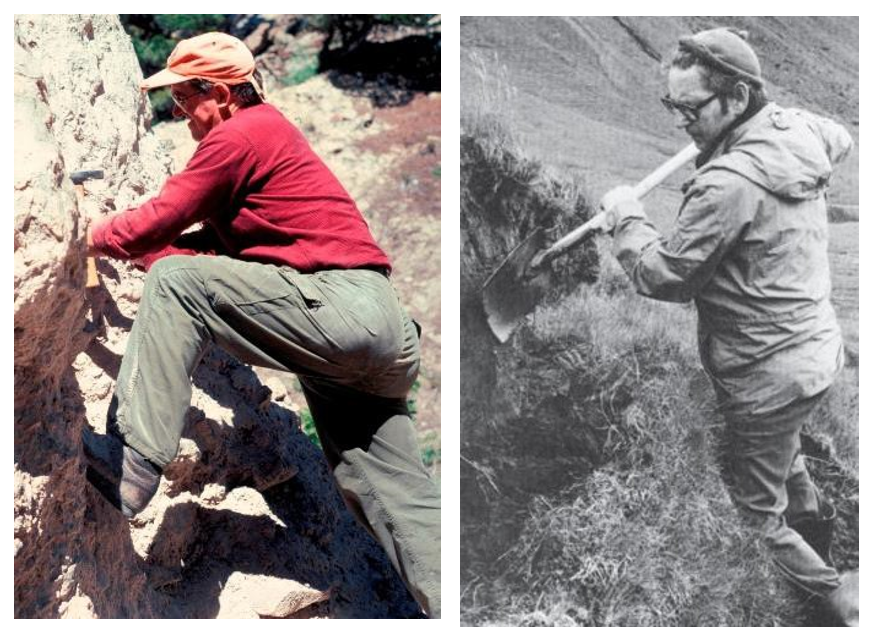 The year 2021 marked 60 years since the first international collective of tephrochronologists – known as the 'Commission on Tephrochronology' (COT) – was formed in Warsaw on 7 September, 1961.
David Lowe, Peter Abbott, Takehiko Suzuki, and Britta Jensen have written an article summarising the commission's history in its various forms since 1961 (e.g. INTAV, SCOTAV, ICCT), commenting especially on the role that COT has played in helping to develop tephrochronology as a global research tool.
Check out the events and the names of some of those who have helped shape our research and understanding in the discipline of tephrochronology, and its myriad of applications, at this link:
https://hgss.copernicus.org/articles/13/93/2022/hgss-13-93-2022.pdf
Above left: John Westgate at the outcrop during the ICCT meeting in Mammoth Hot Springs, Yellowstone National Park, in June 1990. Photo: D.J. Lowe. Above right: Sigurdur Thorarinsson in the field in Iceland during the COT meeting in June 1980. Photo from S. Self & S. Sparks "Tephra Studies". D. Reidel, Dordrecht, p. ix.
INTAV "Tephra Hunt in Transylvania" conference 2018
Photos below are from the last INTAV "Tephra Hunt in Transylvania" conference held near Moieciu de Sus in the southern Carpathian Mountains in Transylvania, Romania, from 24 June-1 July, 2018. Clockwise from top left: Bran (Dracula) castle visited during the mid-conference excursion; winners and runners-up for best student oral and poster papers (from left, Jayde Hirniak, Jennifer Saxby, Hannah Buckland, and Ali Monteath); distal, 0.5-m-thick Y-5 tephra of the Campanian Ignimbrite eruption c. 39-40 ka (Campi Flegrei field, Italy) preserved within loess on the Wallachian plains, southeast Romania (Dan Veres provides the scale); group of tephrochronologists, all connected in some way with New Zealand volcanism and tephrochronology, in the Perșani Volcanic Field (active 1.2-0.6 Ma) during the mid-conference excursion (from left: Leonie Peti, Maria Gehrels, Ola [Aleksandra] Zawalna-Geer, David Lowe [facing away!], and Jenni Hopkins). Photos: D.J. Lowe.